In 2010, when Hale Ann Tufan was awarded a Jeanie Borlaug Laube Women in Triticum award, she was a PhD student working with Lesley Boyd at the John Innes Centre in the U.K., studying blast diseases of wheat and non-host resistance. At the time, she said she wanted to use her knowledge, training and skills in wheat research to make a difference in developing countries by contributing to policies that would improve agricultural output as this story by Joseph Gapko indicates. [editor]
For a brief moment, Hale Ann Tufan asked the hundreds gathered in the stately Hall of Laureates at the World Food Prize in Des Moines, Iowa, to close their eyes and conjure in their minds the image of a farmer. For those from the United States, the mental image might have been an older white man standing next to a gleaming new tractor beside a 1,000 acre field rippling with golden wheat. But in many other parts of the world, the reality of farming is much different. Smallholder farmers in Africa and Asia are women and men tending small plots of less than acre, and have limited access to equipment, fertilizers and markets.
"This first instinctive mental impression is revealing of our personal position, our norms, stereotypes, biases and beliefs," Tufan said from the stage after accepting the 2019 Norman E. Borlaug Award for Field Research and Application. "Whether we realize it or not, these play into everything we do," she added. Borlaug, the father of Green Revolution and Nobel Peace Prize laureate, helped establish the World Food Prize in 1987 to honor individuals for outstanding achievements confronting food insecurity. Since 2012, a separate category — the Norman E. Borlaug Award for Field Research and Application — recognizes exceptional science-based achievements in international agriculture and food production by individuals under the age of 40.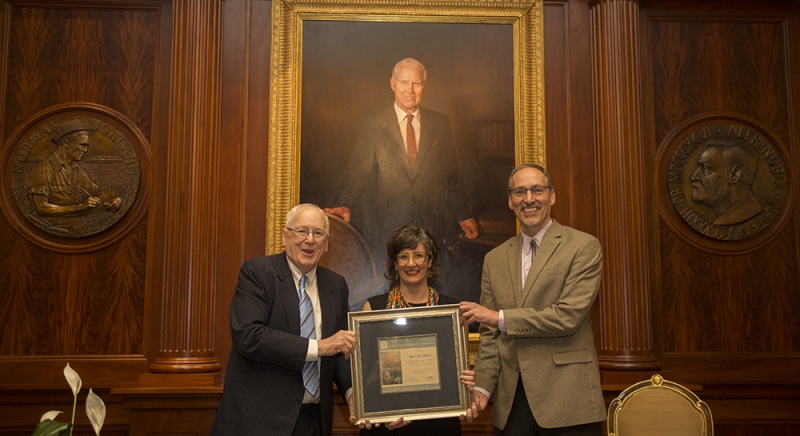 Hale Ann Tufan accepts the 2019 Norman E. Borlaug Award for Field Research and Application from World Food Prize Foundation president Kenneth Quinn, left, and Roy Steiner, managing director for the Food Initiative at The Rockefeller Foundation, right. Photo credit: The World Food Prize.
The World Food Prize Foundation praised Tufan's work championing gender within the global agricultural research community, and lauded her efforts to ensure women farmers and scientists are fairly represented in the lab, in the field and at the table. She is co-director of the Gender-responsive Researchers Equipped for Agricultural Transformation (GREAT) project, and works with the NextGen Cassava Breeding project on the Gender Responsive Cassava Breeding initiative which targets female farmers in Africa. "Gender determines what a farmer has the right to access: land, labor, inputs, information, credit, technology, markets, machinery and much, much more," Tufan said at the ceremony. "Women and girls face systematic barriers to owning and managing farms, yet they tend to fields planted with varieties whose development they had no power to influence. "We may continue producing varieties that won't get adopted, or miss our poverty alleviation goals if genetic gains don't translate into equity gains for women and girls," she said.
World Food Prize Foundation president Kenneth Quinn said it was fitting for Tufan to be recognized Oct.16 on UN World Food Day. "Given Norman Borlaug's commitment to uplifting poor smallholder farmers, the majority of whom are women, it was most fitting that Dr. Hale Ann Tufan received the Borlaug Field Award," he said, praising "her exceptional achievements in promoting gender sensitive agricultural programs."
This article was originally posted on the Borlaug Global Rust Initiative (BGRI) website.
Joseph Opoku Gakpo
Joseph Opoku Gakpo is a journalist in Ghana and member of the Cornell Alliance for Science training team.
For press inquiries or for more information, email us at great@cornell.edu.